Posted on Thursday, July 09, 2020 09:32 AM
These past few months have been very challenging times for all and the Township recognizes that these may be challenging times for you as a business in Brock. To assist you, we are providing this information package to you regarding your responsibility under the instructions from the Durham Region Medical Officer of Health Instructions to Commercial Establishments Currently Operating (under the Emergency Management and Civil Protection Act (EMPCA), R.S.O. 1990 and related Regulations).
Should...
Posted on Wednesday, July 08, 2020 11:18 AM
The COVID-19 pandemic is an unprecedented time in Durham Region and, as a result, many residents are experiencing new and unique needs.
In response to this need, the Region of Durham has convened a Durham Region COVID-19 Funders' Table—which includes the United Way, Durham Community Foundation, the Red Cross, local area municipalities and the Region of Durham. The table works to identify the most pressing needs in the region based on data, and to ensure that community funding allocations are well...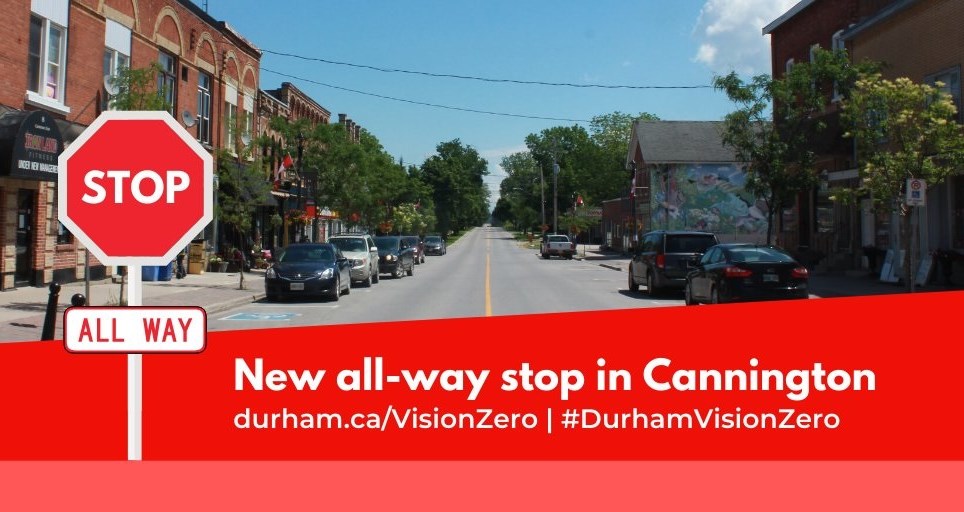 Posted on Wednesday, July 08, 2020 11:09 AM
In support of Durham Vision Zero, the Region has introduced a new all-way stop at Cameron Street and Laidlaw Street in Cannington (Township of Brock) to improve roadway safety for drivers, cyclists and pedestrians.
The new all-way stop will require all drivers in each direction to stop their vehicle before entering the intersection, as well as yield to pedestrians in the crosswalk and any traffic in or approaching the intersection. With a new controlled crossing, this initiative will improve road...
Posted on Tuesday, July 07, 2020 04:34 PM
The agendas for the July 13th meetings are now available online. These meetings are being held electronically. We encourage the public to live stream the meetings.
Posted on Monday, July 06, 2020 06:07 PM
Effective immediately (Monday, July 6, 2020 at 6:00p.m.), the Township of Brock has implemented a Total Burn Ban. Until further notice, burning of any type in the Township of Brock is strictly prohibited. Thank you for your cooperation.